ソパ・デ・キヌア  〜ペルー風キヌアのスープ〜
Soupe De Quinoa
キヌアというと、サラダというイメージがありますが、キヌアの本場ペルーでは、スープに使われることが多いそう。キヌアとじゃがいもは土っぽい香りが似ていて一緒に煮込むとおいしい!力が湧いてくるような味わいです。それをトマトの酸味でさっぱりいただくペルー風スープです。キヌアと野菜の旨味でブイヨンいらず。
材料(4人分)
Material(4人分)
たまねぎ(粗みじん切り)

Onion

1個
じゃがいも(サイコロ状に切る)

Potato

1個
トマト(サイコロ状に切る)

Tomato

1個
にんにく(みじん切り)

Garlic

1片
1/4- 1/3カップ
小さじ1
塩、こしょう

salt, black pepper

少々
お好みで、カイエンペッパー、パクチー、オレガノ、季節のお野菜でアレンジしてください。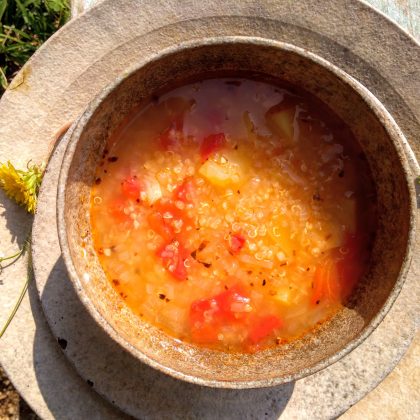 作り方
鍋にオリーブオイル、クミンシード、にんにく、たまねぎを入れて炒める。

じゃがいも、トマトを加えて軽く炒め、水3-4カップを入れて煮る。

じゃがいもに火が通ったら、キヌアを入れ、キヌアが透き通って柔らかくなるまで煮る。(煮すぎると歯ごたえがなくなるので注意)

塩・胡椒、ハーブなどで味を整える。
Recipe
Fry cumin seeds, garlic and chopped onions in a pot with olive oil.

Put in  cut potatoes and tomatoes  and  sauté lightly.

Add 3-4 cups of water and cook.

Add quinoa when potatoes get tender.

Cook until quinoa get translucent and tender.

Remember: you don't want to ruin crunchiness of quinoa by cooking too much.

Season the soup with salt, black pepper and herbs.
Most of the people in Japan use quinoa for salads. However, quinoa is often used for soups in the home of quinoa, Peru. The earthy flavor both quinoa and potatoes have turns into a magnificent harmony by simmering together. You can feel energy of Mother Earth. The tartness of tomatoes makes this dish very appetizing even in summer. No soup stock needed.