味付けナッツ Savory spiced nuts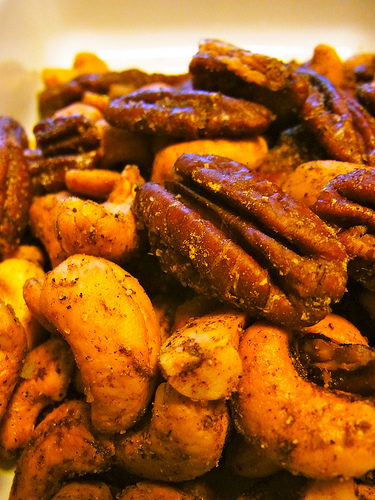 作り方
材料を混ぜて、ナッツによく絡ませる。

 天板に広げ、150度のオーブンで15-20分程度焼く。
焦げないように注意して、ほんのり色づいたらよく冷ます。
Recipe
Mix the ingredients until the nuts are well coated in the oil and spice.

Bake in a low oven (150C) for 15-20 minutes. Be careful not to let the nuts burn. They should turn a golden colour. Leave to cool before serving.
ガラムマサラミックスナッツ
おつまみにはもちろん、サラダのトッピングにも。香ばしくあとを引きます。
Mixed nuts flavoured with garam masala. Perfect finger food or as a topping for salad.