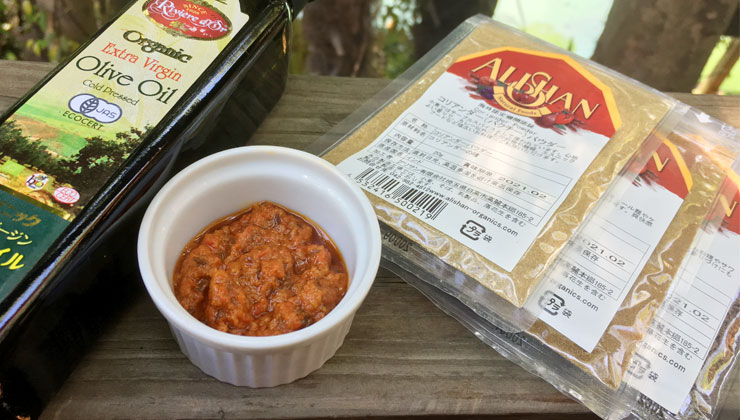 モロッコやチュニジアの食卓に欠かせない調味料、ハリッサ。グリルした野菜、パンにつけたり、クスクス、煮込み料理や炒め物にちょっと風味を足したりなんでも使える便利なハリッサ。辛いのが苦手なのでマイルドな味に仕上げてありますが、スパイシーがお好みなら、ハラペーニョペッパーソースやカイエンペッパーを加えて調整してください。
Here's a very simple recipe for making your own harissa – a condiment found in North African cuisine. This is a very mild version as I'm not a fan of spicy food but you are welcome to replace the bell pepper with any type of chili pepper you prefer. You could also add some jalapeño pepper sauce and/or cayenne pepper for an extra kick.
材料
Material
パプリカ

red bell pepper

1/2 (約80g)

1/2 (about 80g)
大さじ3

3 Tbsp
小さじ2

2 tsp
小さじ1

1 tsp
小さじ1

1 tsp
小さじ 1/4

1/4 tsp
お好みで

to taste
にんにく

garlic

一片、つぶす

1 clove, crushed
作り方
半分に切ったパプリカにオリーブオイルを薄く塗り、断面を下にしてベーキングシートに載せて、周りの皮が黒く焦げるまでオーブンで10-15分焼く。冷めたら黒くなった皮を剥く。

パプリカと他の全ての材料をブレンダーでなめらかになるまで攪拌して味を整える。
Recipe
Lightly coat the half bell pepper with olive oil and place cut side down on a baking sheet. Roast in toaster oven (or regular oven) for 10 – 15 minutes until the outside is crisp and starting to blacken. Leave to cool, then peel off the outer skin.

Add the olive oil, spices and garlic to a mixer along with the bell pepper and blend until smooth.