プラントベースのシェパードパイ
Naturli Shepherd's Pie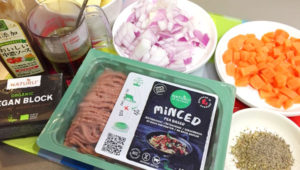 材料(2人分)
Material(2人分)
じゃがいも、皮を剥き一口大に切る

potatoes

450g

450g
玉ねぎ

onion

1/2個、みじん切り

1/2, finely diced
人参

carrot

1本、みじん切り

1
350g

350g
小さじ 1/2

1/2 tsp
ミックスハーブ(お好みのハーブ)

mixed herbs

お好みで

to taste
ウスターソース

worcester sauce

お好みで

to taste
適宜

as needed
作り方
じゃがいもを15-20分柔らかくなるまで茹でる。

じゃがいもを茹でてている間に、玉ねぎ、にんじんをオリーブオイルで炒める。

2にプラントベース・ミンチを加えてミンチが軽く色づくまで炒める。ハーブ、ベジブロス、塩、ウスターソースを加えて、にんじんに火が通り水気がなくなるまで炒める。

じゃがいもが茹ったら、水を切り、プラントベース・有機ブロックを加えて潰す。

耐熱皿に3のミンチを敷き詰め、その上にマッシュポテトを載せ、トースターやオーブンで10分ほど軽く色づくまで焼く。
Recipe
Peel the potatoes, cut into pieces and boil for 15 – 20 mins, or until cooked through.

While the potatoes are cooking, dice the onions and carrots and saute in a little olive oil.

Add the mince and continue to cook until mince is lightly browned, then add the herbs, vegetable broth, salt and worcester sauce to taste. Simmer until all liquid has gone and carrots are softened. Remove from heat.

Once the potatoes are cooked, drain the water, add about 1Tbsp of naturli vegan butter and mash the potatoes.

Layer the mince in the bottom of an ovenproof dish, top with the mashed potato and grill in a toaster oven for around 10 minutes or until the top is lightly browned.