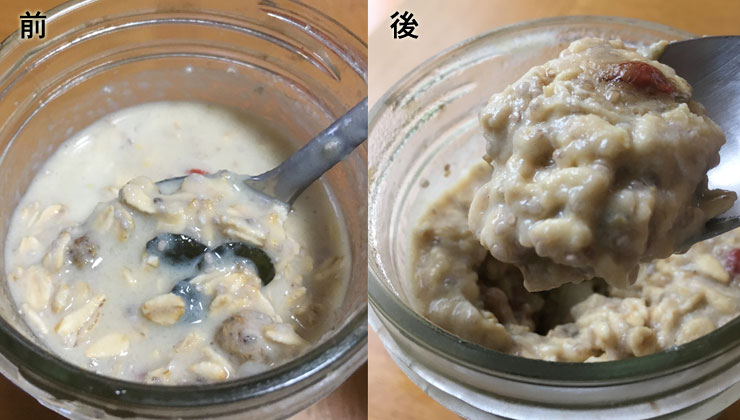 「オーバーナイトオーツ」聞いたことありますか?朝ごはんを作る時間がない、でも健康的でありたい!という方にぴったりな栄養バランスに優れたオートミールの食べ方です。前の晩に材料を混ぜて冷蔵庫に入れておけば、次の朝冷蔵庫から出すだけ。下のレシピ(水分1:オートミール2)は基本です。そこからイマジネーションを膨らませてアレンジしてください。別のミルクにしたり、チアシードの代わりにフラックスシード、さらにナッツ、シード、フルーツ、スパイス、エクストラクト、インカ、コーヒー、チョコレートを使えば無限の組み合わせが楽しめます。塩味のオーバーナイトオーツがお好みなら、ハーブ、トマトはいかが?インターネットにはたくさんのレシピが出てきますので検索してみてくださいね。
Overnight oats are the perfect solution for people who lack time in the morning but still want a healthy, well-balanced breakfast. Once you have the basic recipe down (1:2 ratio of liquid to oats) you can let your imagination run wild. Try different milks, flax instead of chia, fresh fruit, spices, extracts, inka, coffee, chocolate or how about herbs and tomato for a savory version? A quick search online will give you a wealth of recipes to try.
作り方
全ての材料をお好きな容器に入れて、よく混ぜて蓋をしめる。冷蔵庫にひと晩入れてオートミールをよくふやかす。
Recipe
Add all ingredients to your container of choice. Mix and cover. Leave in the fridge overnight  to thicken.