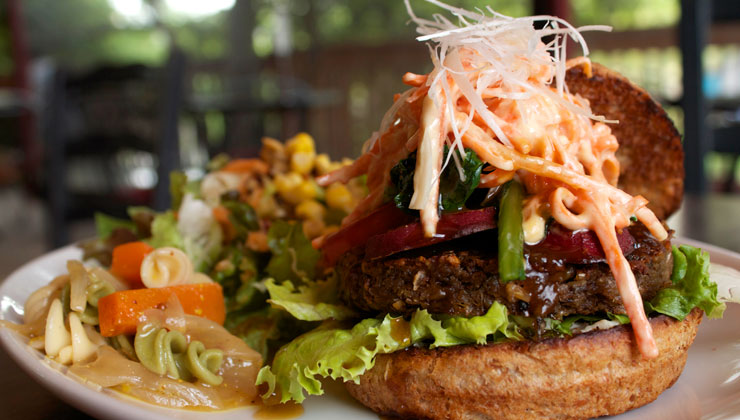 阿里山Cafeの期間限定テリヤキバーガーを味わえた方はラッキー!!あまりに美味しいので秘密のレシピをシェアしちゃいます。季節の野菜をいっぱいサンドしましょう!
If you were lucky enough to try the limited edition Teriyaki Burger at the Alishan Cafe, you'll understand why we're so happy they've decided to share their top secret recipe.
材料(一人分)
Material(一人分)
スプラウト(お好みでアルファルファなど)

alfalfa sprouts or similar

適量
人参

carrot

1/2本

1/2
レタス

lettuce

適量
野菜(お好みで、茹でたさつまいものスライス、トマトのスライス、ピクルス、しいたけなど))

vegetables (eg. sweet potato slices, tomato, pickles, shiitake)

お好みで

as much or as little as you like
マヨネーズ(ソイマヨネーズでもOK)

mayonnaise

適量
適量
大さじ1

1 Tbsp
大さじ1

1 Tbsp
大さじ1

1 Tbsp
大さじ1

1 Tbsp
小さじ1/2

1/2 Tsp
作り方
テリヤキソースを作る。

小鍋にAの片栗粉以外の材料を入れて火にかけ、アルコールを飛ばす。

小さい容器に片栗粉と同量の水を入れてよく混ぜたら、テリヤキソースの鍋に加え、とろみがつくまでよくかき混ぜながら弱火で熱し、冷ましておく。

フライパンにオリーブオイルをひき、冷凍のベジバーガーを弱火で色づくまで焼く。バーガーバンズもいっしょに軽く温める。

サンドする野菜を準備する。

おすすめは、さつまいも(茹で or 焼き)、炒めきのこ、アボガド、きゅうり、トマトなどなど。お好きな野菜を組み合わせて!

にんじんのトッピングを作る。

しりしり or 千切りにしたにんじんをマヨネーズとケチャップで和える(ケチャップは少しだけ)。

では重ねていきましょう!まずはバーガーバンズのボトムにマヨネーズを薄く塗っておきます(レタスでふやけないように)。下から順に、レタス、ベジバーガー、テリヤキソース、お好みの野菜、にんじん、スプラウトそしてバンズのトップを載せます。竹串などを刺すと崩れにくいです。
Recipe
Add the soy sauce, sake, mirin, 100ml water and maple syrup to a small pan and heat slowly to burn off the alcohol.

In a separate bowl mix the starch with a small amount of water, then add to the pan, stirring until thickened, then allow to cool.

Fry your burger from frozen in a little olive oil over a low heat until heated through and golden brown.

Once your sauce is cool, prepare any vegetables you'd like in your burger. Anything goes! Boil/fry sweet potatoes, fried mushrooms, fresh avocado, cucumbers, tomatoes etc.

Prepare the carrot topping. Grate or finely slice the carrot and mix with mayonnaise (soy mayonnaise if vegan) mixed with a dash of ketchup.

Now you're ready to layer. Start by lightly toasting your burger bun, then spread the bottom bun with a thin layer of mayonnaise (it stops the lettuce making the bun soggy). Add  lettuce , then your burger, teriyaki sauce, your vegetables of choice, your crunchy carrot topping, a pinch of alfalfa sprouts, then finally the top of your bun. Stab with a skewer to hold it all together if necessary!