(自家製)ジャムとピーナッツバターロール
(Homemade) Jam and Peanut Butter Rolls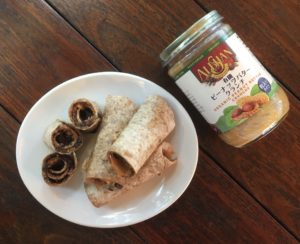 Happy子供の日!
アメリカの子供時代の定番、ピーナッツバターとジェリーサンドイッチをご存知の方は多いでしょう。しかし、次のことをご存知でしょうか?
 National Peanut Boardによると、普通なアメリカの子供たちは高校生の卒業式の日までに1,500個のPB&Jサンドを食べています。
 PB&Jは宇宙ではトルティーヤに挟んで食べなければならないです。(レシピ作成時には知りませんでした。)
 ジャックさんは現在、オートミールにピーナッツバターとチェリーの濃縮果汁を入れて試しています。(ビーナッツバター自体は、スプーンですくって食べたり、アイスクリームに塗ったりしています。)
今回、ジャムはドライカランツを茹でて甘くしてミキサーにかけたものを使ってみました。ドライフルーツを使用したジャムはそんなに難しくないのでぜひご自宅でも挑戦してみてください。
Happy Children's Day!
You have probably heard of the peanut butter and jelly sandwich, an American childhood classic. But did you know the following…?
 According to the National Peanut Board, the average American kid eats 1,500 PB&J sandwiches before he/she graduates high school.
 In space, PB&J must be eaten on a tortilla.
 Jack is currently experimenting with peanut butter and cherry concentrate in oatmeal. (As for peanut butter itself, he eats it by the spoonful and on ice cream.)
For the jam, we use our dried currants, which are boiled, sweetened, and blended.
Enjoy this unique twist on a popular kids' sandwich!
材料( 3分/servings)
Material( 3分/servings)
ジャム

for jam:
125g

125g
水

water

1と1/2 カップ

1 1/2 cups
大さじ2

2 Tbsp
小さじ1

1 tsp
小さじ1

1 tsp
ピーナッツバターとジェリーロール

for peanut butter and jam rolls:
適量

as you like
3枚

3
カランツ、トッピング(オプショナル)

currants, as a topping (optional)
作り方
<ジャム>鍋にカランツ、水、レモン果汁を入れ、とろ火で熱します。

砂糖とシナモンを入れ、溶けるまでかき混ぜます。

水がほとんどなくなるまで煮込んだら、フードプロセッサーに入れて混ぜます。

ジャムのような硬さになるまで数秒ピューレ状にします。

<ロールサンドイッチ>電子レンジでトルティーヤを温めます。暖まったら半分に切ります。

トルティーヤにピーナッツバターとジャムを小さじ1程度ずつ塗ります。(トルティーヤを巻くときにジャムが零れてしまうかもしれません。)食感を楽しめるようにカランツを数粒上にのせます。

トルティーヤを巻いて、食べやすいサイズにカットします。おやつにも食事にもお楽しみいただけます!
Recipe
To make the jam: Place the currants in a pot with water and lemon juice. Bring to a simmer.

Add sugar and cinnamon, and stir to dissolve.

Simmer until the water is mostly evaporated, then pour mixture into a blender.

Blend for a few seconds, until the mixture reaches jam consistency.

To assemble the rolls: Microwave tortillas, and cut them in half.

Spread peanut butter and about 1 tsp of jam on each tortilla. (The jam might spill out when you roll up the tortilla.) For texture, sprinkle currants on top.

Roll tortillas and cut them into bite-sized pieces. Enjoy as a snack or meal!