さつま芋のフムス
Sweet Potato Hummus (actually savory)
Today is International Hummus Day!
Hummus is a dip or spread containing chickpeas, garlic, lemon, and tahini. In fact, the word "hummus" comes from the Arabic word for "chickpea." Hummus first appeared in a cookbook in 13th century Cairo, and is now the national dish for many Middle Eastern countries.
Although hummus has some basic ingredients, you can take it in any direction you choose! For instance, this recipe contains sweet potato, along with spices like cumin and paprika.
Chickpeas and sweet potatoes are both packed with iron, fiber, magnesium and potassium. So why not have them together in this savory, creamy hummus?
Hope you Have a Happy Hummus no Hi!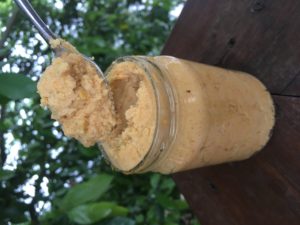 今日は International Hummus Day!
フムスはひよこ豆、ニンニク、レモン、タヒニを使っているスプレッドです。実は、「フムス」という言葉はアラビア語の「ひよこ豆」の言葉に基づいています。フムスが最初に現れたのはカイロのレシピ本で、現在では東諸国で広く食べされています。
フムスは基本的な原料を使って、様々なアレンジが楽しめます。例えば、今回のレシピはさつま芋とクミン、パプリカといったスパイスを使います。
ひよこ豆とさつま芋はどちらも鉄分、繊維質、マグネシウム、ナトリウム等に富んでいます。クリーミーで美味しいフムスを作ってみませんか?
フムスの日をぜひ楽しんでください!
材料(6分人)
Material(6分人)
さつま芋

sweet potato

カップ 1 (中1本程度)

1 cup (1 medium-sized potato)
カップ 1

1 cup
アクアファバ(ひよこ豆の煮汁)

aquafaba (chickpea liquid)

100ml

100ml
大さじ1

1 Tbsp
ニンニク、みじん切り

garlic, minced

1/2 片

1/2 clove
大さじ1

1 Tbsp
1 1/2 大さじ

1 1/2 Tbsp
小さじ1/2

1/2 tsp
小さじ1

1 tsp
小さじ1

1 tsp
小さじ1

1 tsp
作り方
もし乾燥ひよこ豆を使うとしたら、一晩水に浸して、柔らかくなるまで煮込みます。ひよこ豆の煮汁を保存します。

さつま芋を蒸します。(焼いてもOKなのでお好みで変えてみてください。)

フードプロセッサーでひよこ豆とひよこ豆の煮汁をペースト状になるまで混ぜます。

残りの原料を足して、ペースト状になるまで混ぜ合わせます。

ピタブレッド、クラッカー又は野菜のディップとして食べます。
Recipe
Soak chickpeas in water overnight and boil until cooked. Save the chickpea liquid/aquafaba.

Steam or bake sweet potato.

Pulse chickpeas and aquafaba in food processor until they become more paste-like.

Add the remaining ingredients, and blend until a smooth paste forms.

Serve with pita bread or use as a dip for crackers and vegetables.
メモ:このレシピは惣菜メニューです。もっとさつま芋の味を活かしたい場合は、ニンニクとパプリカを抜いても良いです。
Note: This hummus is more savory than sweet. If you want a stronger sweet potato flavor, omit the garlic and paprika.