摘みたてハーブのシロップ
Fresh Herb Syrup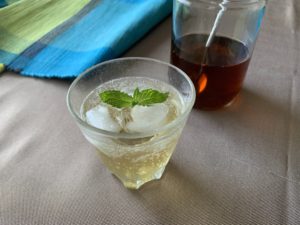 庭やベランダで家庭菜園をしている方も多いのではないでしょうか。この時期は収穫できるハーブが増えて楽しいですよね。
今回は、摘みたてのハーブを使ったシロップの作り方をご紹介します。アイスティーや自家製レモネードにはもちろん、
炭酸水で割ったりモヒートなどカクテルなどにも使用できます。様々なハーブで試してみてくださいね。
For those who grow herbs in their yards or balconies, this season is really exciting!
Today, we would like to share a recipe for a simple herbal syrup that can be used as a sweetener for iced tea, lemonade, cocktails like mojito, and other drinks.
材料(ピーナッツバターの空き瓶半分(約1カップ))
Material(ピーナッツバターの空き瓶半分(約1カップ))
150g

1 1/2 cups
水

water

400cc

300cc
お好きなハーブ(今回はペパーミントを使いました)

herbs (we liked mint and rosemary)

30gくらい

8-10 sprigs
作り方
空き瓶を使用する場合は、熱湯殺菌してよく乾かしておく。

小さめの鍋に水と砂糖を入れて、砂糖が完全に溶け切るまでスプーンでかき混ぜながら弱火にかける。完全に溶けてふつふつしてきたら火を止める。

2によく洗って水気をとったハーブを入れ、スプーンと鍋の内側でハーブをつぶすようにしながらよく混ぜ、15分程度ハーブをそのまま鍋に入れて蒸らします。あまり長く入れておくと苦味が出てくる場合がありますので、時間を調節する場合は少し味見しながら行ってください。

蒸らしが終わったら、茶こしなどで濾しながら1の空き瓶にいれます。あまり温度が下がると扱いづらくなるので気をつけてください。
Recipe
If using a jar, sanitize by boiling and letting it dry.

Pour water and sugar in a small pan, and bring to a slow boil on low heat. Stir with a spoon until the sugar is dissolved.

Wash and dry the herbs with cooking paper, and add into the pan. Crush herbs against the inside of the pan using a spoon, and mix well. Leave the herbs in water for at least 15 mins. Taste occasionally, as the herbs may become bitter if you leave them for too long.

After steeping the herbs, strain the mixture into an empty jar using a tea strainer. Be careful not to let the syrup cool too much, or it may become sticky and hard to handle.