ジャックの特製オートミール
Jack's Oatmeal Recipe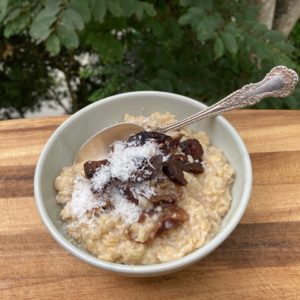 アリサンのジャックはオートミールが大好きで長年の間、ほぼ毎朝食べています。
ジャック特製のオートミールはチアシードやフルーツがたっぷり乗っていてアリサンスタッフにも大好評です。
ぜひ試してみてください!
You have no idea how much Jack loves oatmeal! He eats it almost everyday with a lot of chia seeds and fruits.
Sometimes he shares his tasty oatmeal with Alishan staff, which always makes them happy! Try Jack's Happy Oatmeal 🙂
材料(ジャックが食べる量なら2人前(普通の人なら4人前))
Material(ジャックが食べる量なら2人前(普通の人なら4人前))
作り方
小さめの鍋にオートミールを入れて、火にかけ沸騰させる。水(2カップ)が蒸発するまで少しずつかき混ぜる。

チアシードと水(大さじ3)、細かく刻んだドライフルーツやナッツを加え水分がなくなるまで混ぜる。
ドライフルーツは混ぜているうちに柔らかくなってきます。

ドライフルーツが柔らかくなってきたら、器に盛り付け、ココナッツフレークや切った果物をお好みでトッピングしてください。

ジャックは、惣菜系の味付けで楽しみたい時は梅干を入れたり、インド風の漬物を加えているそうです。
また、右の写真のように、ターメリックなどを加えても色鮮やかで楽しいとおもいます。(ジャックはターメリックを入れる時は生姜も入れます!)

あなたのお気に入りの組み合わせを探してみてくださいね。

  
Recipe
Put rolled oats and water (2 cups) into a small deep pan and bring to a boil. Slowly simmer for 3~5 minutes or until the water has evaporated.

Add chia seeds, water (3 tbsp) and chopped dried fruits and nuts. Stir until water is evaporated.
Everything will become nice and soft with the cooking.

Once dried fruits are soft, put oatmeal in a bowl. Top with coconut flakes, fresh fruits etc.

You can make your hot oatmeal savory: add an umeboshi or chopped Indian pickles.

Jack sometimes adds turmeric to it like in the right picture (he also adds ginger when he uses turmeric!)

Please experiment and find your favorite combinations.