ピーナッツバターシャーベット
Peanut Butter Sorbet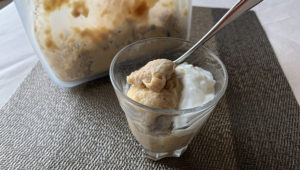 暑い日が増えてきましたね。そんな日はお家で簡単にシャーベットを作ってみませんか?バナナを使えば優しい甘みが楽しめますよ。
Here is an easy homemade sorbet recipe for this hot summer!
材料(2人分)
Material(2人分)
バナナ

banana

2本

2
150cc

150cc
大さじ2

2Tbsp
メープルシロップ(はちみつやアガベシロップでもOK)

maple syrup (or honey or agave syrup)

大さじ1

1Tbsp
作り方
全ての材料をジップ付きの袋に入れる

空気を抜くようにしてジップを閉め、バナナが潰れるように揉みながら全体的によく混ぜる。

2を冷凍庫に入れて、2時間たったらよく揉んでさらに2時間凍らせ、程よく固まったら再度揉み解して完成。
※冷凍庫に入れるときは、平べったくなるように置いてください。
※写真ではヨーグルト(分量外)をトッピングしています。

<ブレンダーをお持ちの方>
バナナをあらかじめ2cm幅程度に切って冷凍してから、他の材料と合わせてブレンダーに入れて混ぜると、より簡単にジェラートのような滑らかなアイスを作ることができます。
※ブレンダーを使用する場合は豆乳を大さじ2としてください。
Recipe
Put all the ingredients into a zip lock bag.

Close the zip, removing the air, and knead the bananas to crush them and mix well.

Place the bag in freezer and leave it for two hours,  knead well then put it back in freezer for two more hours. Knead it well once again before serving.
※Make sure to flatten the bag when you put it in the freezer otherwise it could be difficult to knead once it's frozen.
※We topped with yoghurt in the picture.

<If you have a blender>
Cut bananas into 2cm thick slices and freeze. Once frozen, put them into a blender with the other ingredients and blend. This is a much easier way to make a smoother gelato
※If you use blender, please reduce soy milk to 2Tbsp.
今回レシピで使用したスタッシャーは、テングオンラインショップでも購入可能です。何度も洗って使用できるシリコン製のジップバッグ。冷凍、電子レンジ、湯煎、食器洗い機対応なので、アイデア次第でいろいろな料理に使用が可能です。
You can purchase the silicone bag, Stasher, via Tengu Online Shop. It's freezable, microwavable, can be washed in a dishwasher and sustainable!