ビーガンチョコレートアイスクリーム
Vegan Chocolate Ice Cream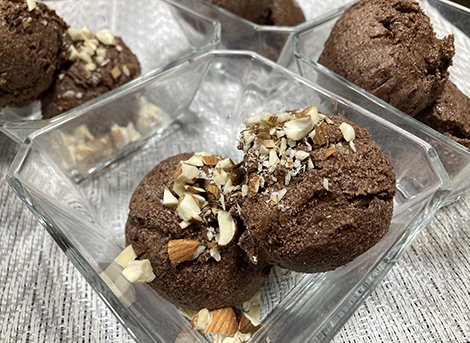 みんな大好きチョコレートアイスクリーム。材料はたったの5つ。ミキサーで混ぜていくだけの簡単レシピです。
ココアパウダーのちょっぴりビターな風味とデーツの甘みがとっても美味しい、濃厚なチョコレートアイスに仕上がりました。
そしてビーガンですよ〜。
Everyone loves chocolate ice cream. There are only five ingredients. It is a simple recipe that only requires mixing in a food processor.
The slightly bitter flavor of cocoa powder and the sweetness of dates make for a very delicious, rich chocolate ice cream.
And it's vegan!
作り方
まず、柔らかめデーツを少し塊が残るくらいまでフードプロセッサーにかけます。

そこにお湯を少し入れてペースト状になるまでフードプロセッサーを回します。

ペースト状になったら一度取り出し置いておきます。

一晩冷蔵庫で冷やしたココナッツクリーム缶を中が混ざらないようにゆっくりと開け、上部に固まったクリーム部分のみを取り出します。

残ったココナッツウォーター部分はここでは使わないので、氷を入れてそのまま飲んでも美味しいし、何か他の料理に使うのもいいですね。

取り出したココナッツクリーム部分をフードプロセッサーに入れて滑らかになるまで回します。

そこに、ココアパウダー、バニラエキストラクト、アーモンドココナッツミルク、デーツペーストを入れよく混ざるまでフードプロセッサーを回します。

味見をして必要であればココアパウダーを増やしたり、好みの味に整えてください。

容器に移し、ラップでゆるく覆い、さらにホイルで覆って凍りやすくし冷凍庫にIN!

ムース状のアイスクリームがお好みであれば2〜3時間後から、固いアイスクリームがお好みの場合は一晩凍らせてください。

食べる20分前くらいに冷凍庫から出しておくと、すくいやすいです。

お好みで砕いたアーモンドをトッピングしても美味しいですよ。
Recipe
Add moist dates to a food processor and process until small bits remain.

Then add hot water a little at a time until it forms a thick paste. Take the date paste out and set aside.

Without tipping the cans, scoop out the coconut cream from the cans of coconut cream, reserving the clear liquid for other uses.

It is actually nice to drink the coconut water, the leftover liquid, with ice cube.

Add coconut cream into the food proceccer and mix it until smooth.

Then add cocoa powder, vanilla extract, almond coconut milk, and the date paste.

Mix until fully incorporated.

Taste and adjust flavors as needed.

Transfer to a freezer-safe container and cover loosely with plastic wrap, then foil to help freeze.

You can take this out in a couple of hours for a chilled mousse-like ice cream.

Freeze overnight for a firmer ice cream.

Set out for at least 20minutes prior to scooping. You also can put crashed almond on top.

Enjoy your summer!