シンプルな手作り万能調味料♪ 炒め物、炒飯の仕上げにひとかけなど何にでも大活躍のにんにく醤油。ぜひお試しあれ。
A simple handmade all-purpose seasoning♪ Garlic soy sauce is very useful for stir-fry, finishing stir-fried rice, or just about anything else you can think of. Try it!
材料
Material
適量

appropriate amount
にんにく

garlic

適量

appropriate amount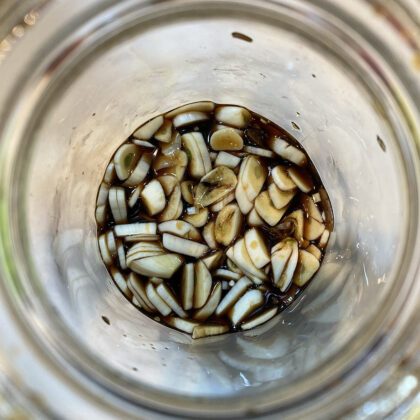 作り方
にんにくを包丁で軽くつぶしてからスライスします。

熱湯消毒した瓶にスライスしたにんにくとお醤油を入れて数日熟成させたら出来上がり。

数日経つとさらっとしていたお醤油がトロッとしてきます。日が経つほど美味しいですよ。

お料理で使う時にはぜひスライスにんにくも一緒に使ってください。

お好みでホールチリや生姜を入れるのもGOOD。

冷蔵保存で、全部使い切る前ににんにくとお醤油を継ぎ足していけばずっと使えます。
Recipe
Lightly crush the garlic with a knife and slice them.

Put sliced garlic and soy sauce in a jar sterilized with boiling water and let it mature for a few days, and it is ready to use.

After a few days, the light soy sauce will become tart. The more days pass, the better it tastes.

When you use it in your cooking, please use sliced garlic with it.

It is also GOOD to add whole chiles or ginger if you like.

Keep refrigerated and you can add more garlic and soy sauce before you use it all up.