ベジタリアン魯肉麺
Marinated Mushroom Meat Topped Bifun
台湾B級グルメをお手軽に!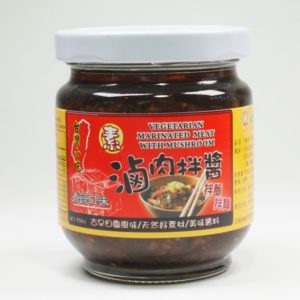 台湾に行ったら屋台で必ず食べたいB級グルメの筆頭として「魯肉飯」が有名です。本来豚肉を使ったどんぶり飯ですが、素魯肉拌醤(ベジタリアン・ルーロージャン)はもちろんベジタリアン対応。ご飯にかければ魯肉飯、麺にかければ魯肉麺。お手軽に台湾の味が味わえます。今回は玄米ビーフンを使って即席魯肉麺です。
If you take a trip to Taiwan you will definitely see this for sale in the little food stalls. It's usually made with pork but can be made for vegetarians too. You can enjoy with rice or to flavour noodles; in this recipe we'll use bifun noodles.
材料(1人分)
Material(1人分)
大さじ4

4 Tbsp
長ネギ

leek

1本

1
お好みで

as much as you like
にんじん

carrot

1/4本

1/4
パクチー

coriander leaves

お好みで

for garnish. Can be omitted
お好みのオイル

oil of choice

大さじ1

1 Tbsp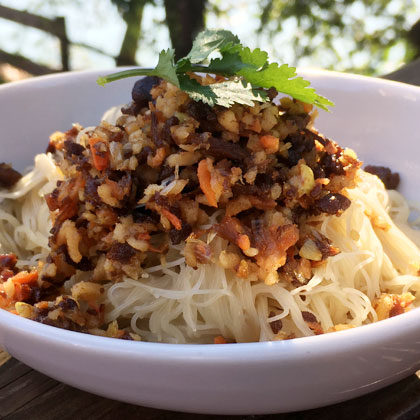 作り方
ジャックの豆ミートをお湯で戻す。10分したら、ギュッと水気を切る。

オイルでジャックの豆ミート、人参、ネギを炒め、素魯肉拌醤を入れて、さらに炒める。

どんぶりに、玄米ビーフンとスープを入れて、お湯を注ぐ。3分待って、ビーフンが柔らかくなったら、2をかけて、さらにお好みでパクチーを飾ってできあがり!
Recipe
Soak the textured soy protein in hot water for around 10 minutes. Once softened squeeze out all the water.

Heat oil in a pan then saute textured soy protein, carrot, leek and vegetarian marinated meat.

Place the bifun in a bowl with the soup sachet, add boiling water and let sit for 3 minutes. Once the noodles are softened, add the vegetable and soy meat topping and serve.