All you need to know about Peanut Butter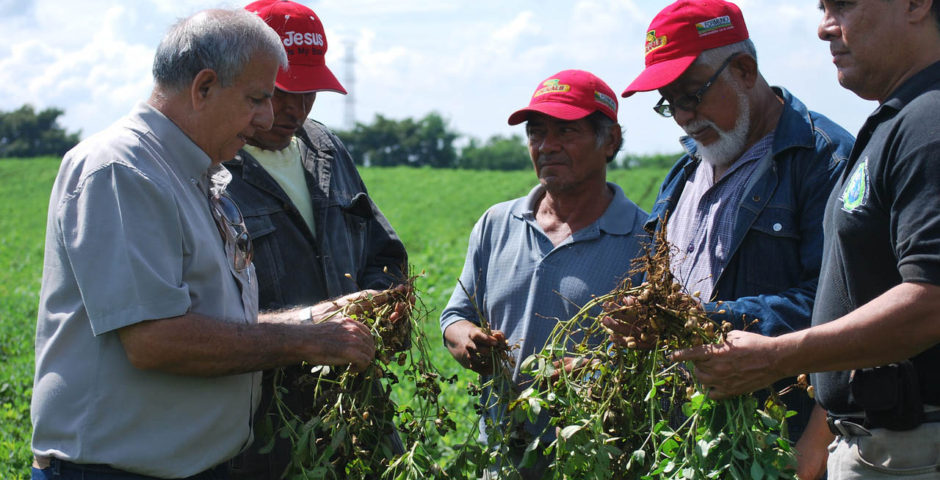 Alishan as a business was built on the back of a few products. Peanut Butter was certainly one of them, and is still one of our best selling products to this day. In the photo you can see Jay, our son eating peanut butter as a child. He is now late into his college days and still loves peanut butter, and we enjoy it as much as we did when we were kids too. I love to eat it straight from the jar!
Japan did not have peanut butter readily available in the 80′s, when Alishan and Tengu Natural Foods were first founded, and although there are various varieties on the market which are imported, we think ours is still the best.
Good food doesn't have to be complicated and expensive, and peanut butter is fine by itself or worked into some fantastic dessert or is also prevalent in Thai food. We serve a peanut butter cookie in the cafe here at Alishan which is popular too.
Once Again Nut Butter, Inc.
Jack's reasons for choosing Once Again:  They are the "real thing".  They are a small company trying to live and work correctly who also make incredible nut butters. Helping to make a change in farming,  worker ownership and a global mission of supporting developing country rural farmer communities. Read more below.
History of Once Again
1976:  Once Again was founded by Jeremy Thaler and Constance Potter.  A friend mentioned the idea of purchasing a small, used coffee roaster and trying to roast bulk nuts.  Production began in a small, 800 square foot space in their basement.  Jeremy arranged to use the discarded bulk pails from a local bakery to pack bulk nut butter.
1981:  Once Again purchased and renovated a turn-of-the-century silk production facility in Nunda, New York, and converted it to nut butter production. Nunda (pronounced "none day") is a town in Livingston County, New York, United States.  In the Seneca language, "Nunda" relates to hills and a popular translation is "Where the valley meets the hills".

1987  Jack and Fay start importing Once Again Peanut Butter to Japan to satisfy Jack's strong desire for a good peanut butter sandwich
1989:  Once Again is the first company in the nation to introduce Organic Valencia Peanut Butter.  Once Again subsidized the farmer's crops for the next five subsequent years to ensure stability and fair pricing.  Tengu immediately switches from Natural to Organic PB.    Jack saves one jar from the early days as a memento of how it all started.
2007:  Once Again introduced the first organic-stabilized Peanut Butter in the country.  Jack as a purist  does not import this.     Will consider it if others want it  but not for him.
Economic
International Commitment: Once Again address issues of poverty by paying fair prices for commodities. In addition, they develop and start farm co-ops in developing economies.  See http://www.jhc-cdca.org/,
National Commitment: A healthy food pioneer, they helped develop the organic peanut growing standards for the United States. They are currently supporting regional beekeepers from family farms and assisting United States organic sunflower growers with crop development.
Their Commitment to You:  Their products undergo safety and quality testing from raw goods delivered to our plant to finished goods shipped from our warehouse. They take pride providing you with products of superior quality.
Social
Community Involvement:  Once Again has a philosophy "Together we can make the world a better place. When you purchase a jar of Once Again, you partner in a mission to make the world a better place."
Once Again donates to a number of charities, disaster response initiatives, projects and events.   They see themselves as being a mission oriented company that also makes great tasting nut butters!  Enjoy.   To look at the deep and wide range of groups look at  https://www.onceagainnutbutter.com/social    Jack and Alishan try to support social activism and community support groups in Japan. Contact us if you have ideas.
Once Again Nut Butter has been working with the Jubilee House, a charity located outside Managua, Nicaragua, for over 20 years.  Their program, Center for Development in Central America (CDCA) http://www.jhc-cdca.org/, addresses the educational, social, and medical needs of the second poorest nation in the Western Hemisphere. The program goal is to help communities become self-sufficient, sustainable, and democratic.  At Once Again, they share their core belief that all people have the basic right to clean water, sanitation, food, education, employment, clothing, and housing.  Co-op development is one tool used to build and maintain communities. Jubilee House has a medical clinic serving 15,000 community members, who support themselves through organic sesame farming co-ops, sewing co-ops, and, now, organic honey farming co-ops.  Alishan makes annual donations to CDCA.
Once Again also  supports the Jubilee House by donating a portion of their sesame Tahini sales to them to use for their programs.
https://www.onceagainnutbutter.com
How to use Once Again Nut Butters
Jack suggests  just eating it straight out of the jar  whenever the urge hits.   Of course all the other ways are also fine:
On toast
A dipping sauce for somen and other noodles
Cookies, ice cream
Almost any place is a good place for PB…says Jack
Fun Facts
It takes about 540 peanuts to make a 12-ounce jar of peanut butter.
There are enough peanuts in one acre to make 30,000 peanut butter sandwiches.
Find out

 

how peanuts grow.
By American law, any product labeled "peanut butter" in the United States must be at least 90 percent peanuts.
The world's largest peanut butter factory churns out 250,000 jars of the tasty treat every day.
Four of the top 10 candy bars manufactured in the USA contain peanuts or peanut butter.
Peanuts account for two-thirds of all snack nuts consumed in the USA.
Peanuts contribute more than $4 billion to the USA economy each year.