ザーキャロブキッチン
The Carob Kitchen
生産者:ザーキャロブキッチン
原産国:オーストラリア
商品名:キャロブココナッツバー、キャロブアーモンドバー、キャロブミルクバー、キャロブミルクベアー、キャロブバンジョーベアーココナッツ
Supplier: The Carob Kitchen
Country of origin: Australia
Product: Carob coconut bar, Carob almond bar, Carob milk bar, Milk banjo bear, Coconut banjo bear
History
数本のキャロブの木が、いつの間にか3500本のキャロブの森へ
オーストラリア南部の町・ポートエリオットにキャロブキッチン社はあります。約20年前、医師をリタイヤし、のんびりした優雅な老後を夢みてこの農地を購入したデイビッド&キャロル・ソロモン夫妻。親戚に勧められ、キャロブの木を数本植えました。「キャロブシロップでも売ろうかと軽い気持で始めましたが、10年もしたら手に負えないほど木が増えてしまって…。そこで徐々にキャロブバーの生産が始まりました」。そうして2012年キャロブキッチンが誕生したのです。東京ドーム3つが入るヘクタールの土地に、キャロブの木は3500本。これまで地中海原産のキャロブの生産は、ほとんどがスペインでした。でも、オーストラリアのように乾燥していて暑い気候は、キャロブにピッタリなのです。
From a few carob trees to a forest – with no one realizing it
The Carob Kitchen is located in Port Elliot, a town in southern Australia. About 20 years ago, David and Carol Solomon retired as doctors and purchased this land with dreams of a relaxing and elegant retirement. From the recommendation of a relative, they planted a few carob trees.
"We briefly thought about selling carob syrup, but after 10 years the number of trees grew to an unimaginable level, so we gradually started to make carob bars."
This is how Carob Kitchen began in 2012. There are 3,500 carob trees that cover enough hectares to fit three Tokyo Domes. Because carob is native to the Mediterranean, until now most carob production has been in Spain. However, Australia's dry and hot climate is also perfect for growing carob.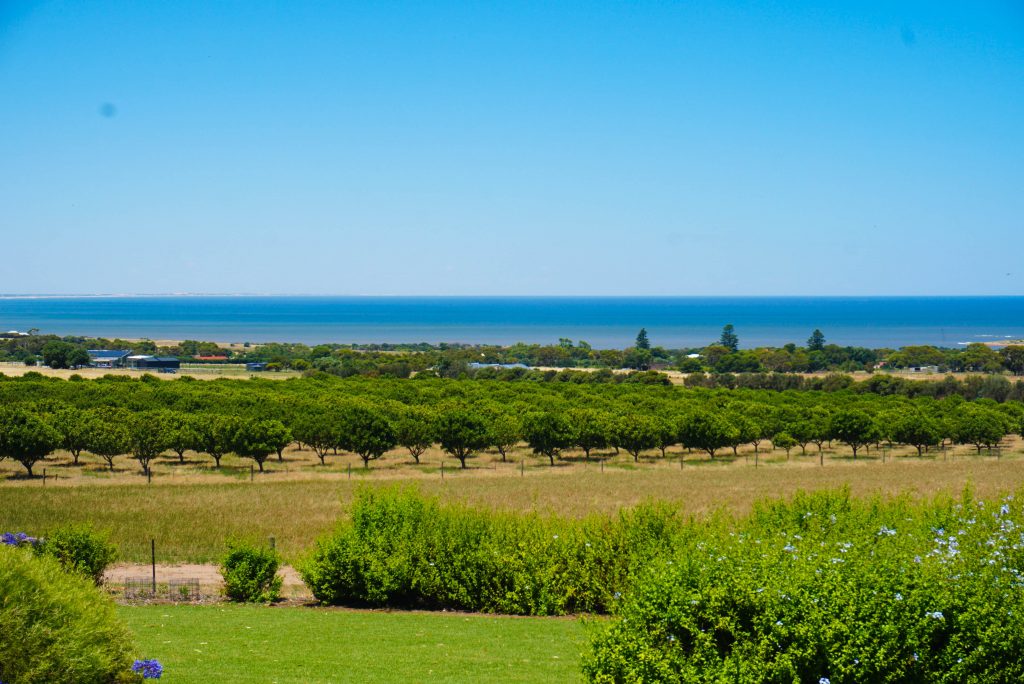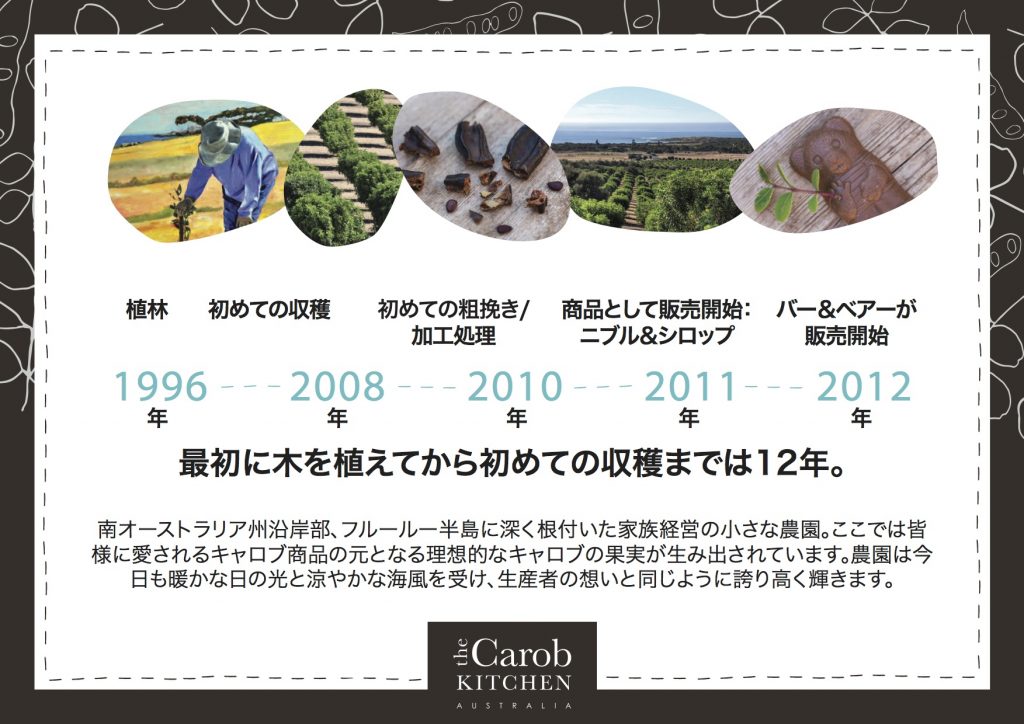 ---
About Carob Kitchen
利潤第一でないからこそ、実現できること
ソロモン夫妻と娘、孫たち、家族で運営されているキャロブキッチン。キャロブの森で栽培されたイナゴマメのさやはパウダーやチョコレートに、マメはシロップ作りに使って無駄なく加工されています。「生産者がただ原料を販売するだけでなく、加工品に仕上げてもっと価値あるものにしている点がすばらしい」とジャック。
また、キャロブの森は砂漠化対策にも一役買っています。酪農農地拡大のために次々と木々が伐採され、砂漠化した大地がキャロブの森として蘇りつつあります。キャロブキッチン社には、利潤第一でないからこそ、実現できる健全な農法と社会貢献、そして何よりもおいしいチョコレートがありました。
What we can achieve because we are not "profit first"
Carob Kitchen is a family-owned company run by the Solomons, their daughter, and grandchildren. The pods of the carob (locust) bean are processed into powder and chocolate, while the beans are made into syrup. "The producers don't just sell the raw materials, but process them to make a more value product. That's a wonderful thing," says Jack.
Actually, carob trees play a role in combatting desertification. Due to dairy farming, trees are being cut down one by one, and the desertified land is being revived by carob tree forests. Because Carob Kitchen is not a profit-driven company, they have been able to realize sound farming methods, contribute to society, and above all make the best chocolate.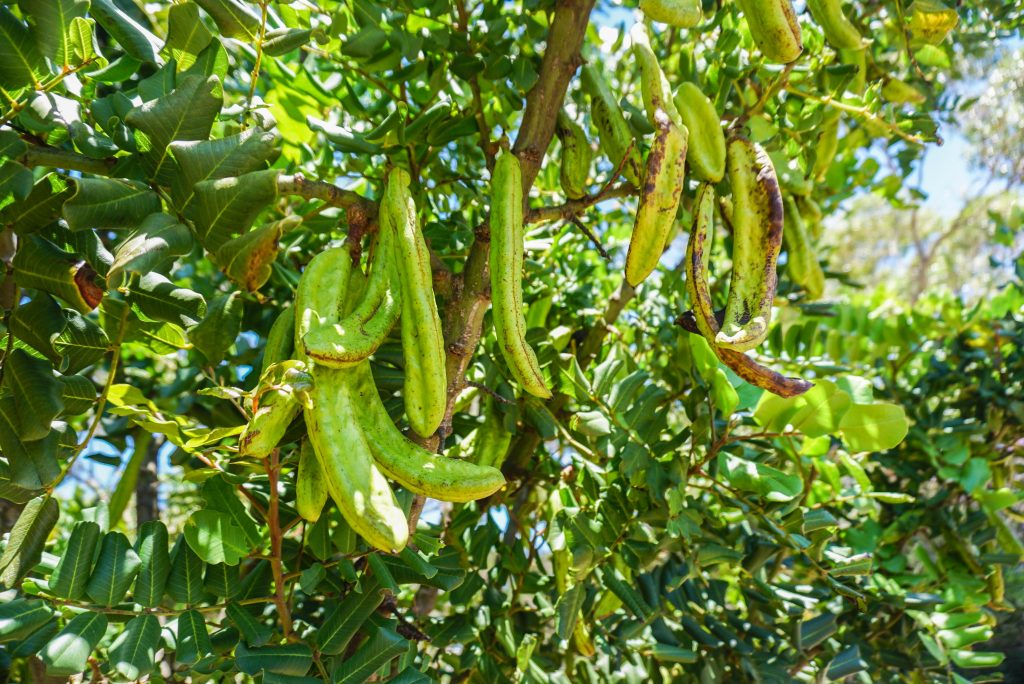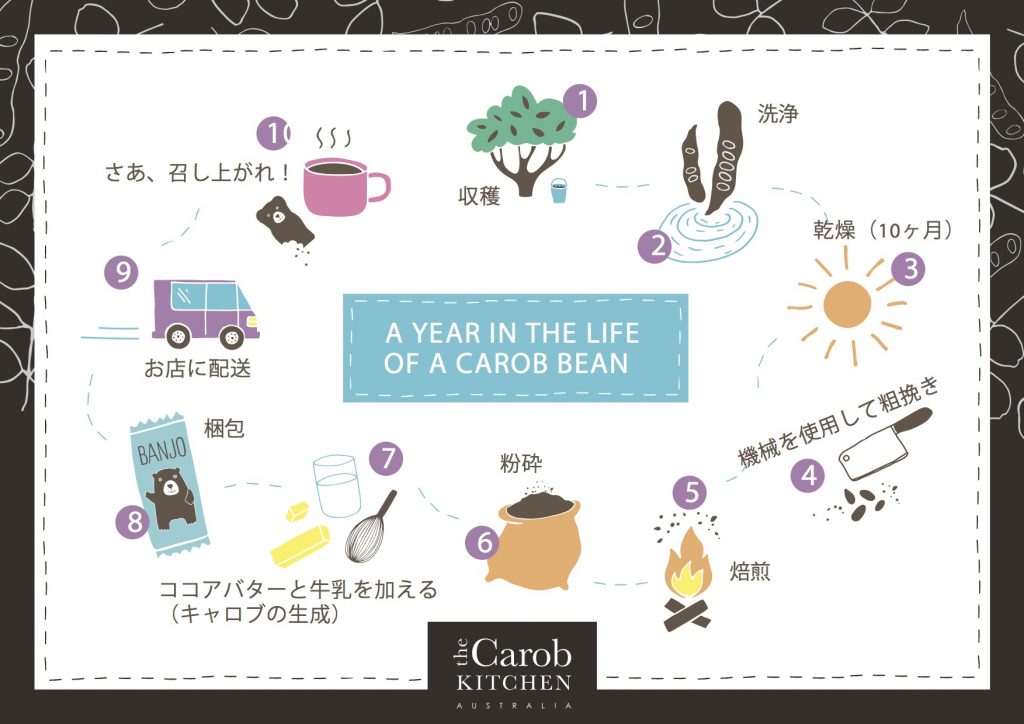 ---
Why we love them
オーストラリアの自然食品店でキャロブベアーに遭遇
オーストラリア国内での知名度は高く、自然食品店に行くと必ずといっていいほど、キャロブ。キッチン社の商品が並んでいます。2014年ジャックがオーストラリアの自然食品店でキャロブベアーを発見しコンタクトをとり、2016年より輸入が始まりました。
Encountering carob bears in a natural food store in Australia
Carob is well-known in Australia, and you can always find it in natural food stores. In 2014, Jack found carob bears on the shelves of a natural food store in Australia. After receiving Carob Kitchen's contact, we began importing their products in 2016.