逆さまトマト栽培 Upside Down Tomatoes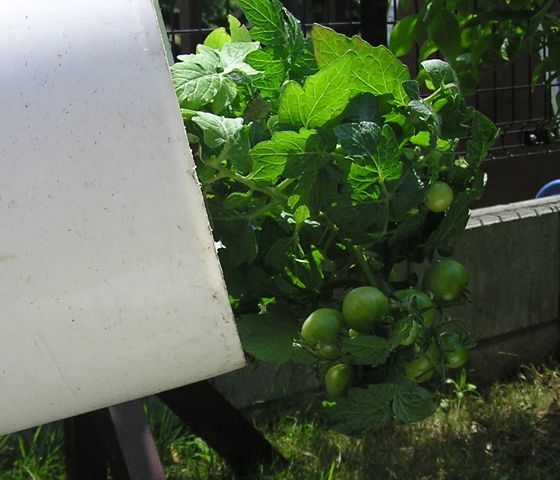 Just to prove we test out our own ideas here are my attempts at growing tomatoes upside down. My neighbours think I'm crazy but I intend to prove them wrong!
テングタイムズに載せた記事の「逆さまトマト栽培」を、記事を載せた責任もあるので、実際に栽培してみました。始めたのはいいけれど、ご近所さんはきっと、「逆さまにトマトを作るなんて頭がおかしくなったんじゃない」と思ってるんじゃないでしょうか!?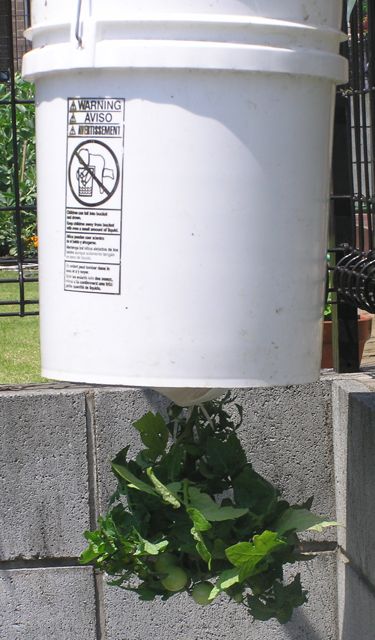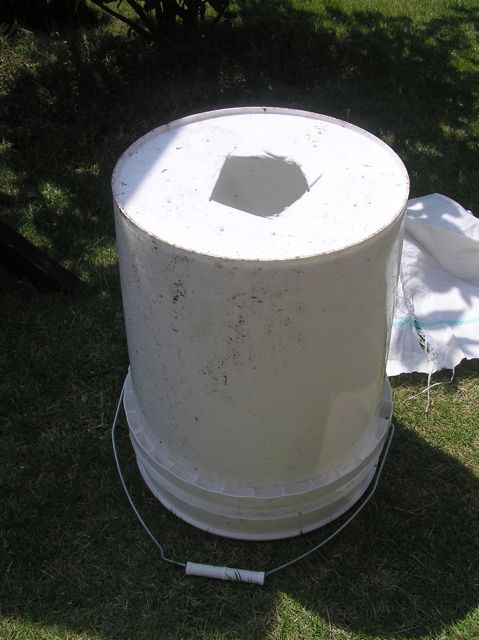 ご覧頂けますように、用意したのは、メープルシロップの容器の底部分に穴を開けたものと、丈夫なゴミ袋。ゴミ袋はホームセンターで購入出来るものです。この時点で大きな間違いをしてしまいました、それは、小さい苗を入れるのには大きすぎる穴を容器の底に空けちゃったことと、作業中に何枚かの葉にダメージを与えちゃったことです。もしこの栽培をおこなわれる時には、大きく育つ前の、小さめの苗を選ばれる事を勧めます。今回使用しているメープルシロップの容器も、大きくて、重量もあり、フェンスにぶら下げられるか心配です。ご覧頂いているように、プラスティックバッグを使いながら、土と水を十分入れて、フェンスを使ってぶらさげ、なんとか準備が整いました。なんやかんやと「逆さまトマト栽培」も数週間が経ちまして、すでに赤く色づき始めており、苗もフェンスもなんとか生き抜いております。さらに、小さくて、軽めの丈夫なゴミ袋で、小さめの苗を選び「逆さまトマト栽培」を挑戦しております。その後の経過は、また掲載しますのでご覧下さい。
As you can see I got Jack to saw a hole in the bottom of one of our maple syrup buckets. I lined it with a heavy duty rubbish bag, packs of which are readily available from any home center. The biggest mistake I made here was using a small plant I had already been given which was too large to push through the hole in the bucket. I damaged quite a few leaves doing this and would highly recommend using a smaller seeding (my seedlings were still too small and I just couldn't wait to give this a try!). The bucket is also a little too large and weighs an awful lot which makes me fear for the fence it's hung on. However, it's been there a couple of weeks now and the first tomatoes are just turning red so it seems both the plant and the fence have survived this operation. I have just set up a smaller, lighter weight version using just one of the rubbish bags I used to line the bucket with a much smaller seedling. I will post photos of this in the next week or so. Updates of my brave new tomatoes will also follow!