しっとり自然な甘さのブラウニー。リッチなチョコレートで大満足のヴィーガンスイーツ。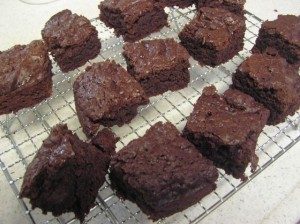 材料(5-6人分)
Material(5-6人分)
1カップ

1 cup
3/4 カップ

3/4 cup
1 カップ

1 cup
小さじ1/8

1/8 tsp
小さじ 1/2

1/2 tsp
1/3 カップ (場合によって 1/2 カップの豆乳を追加する)

1/3 cup (you may need 1/2 cup or more depending on the flour you use)
油(匂いが強くないもの)

flavourless oil

1/3 カップ

1/3 cup
絹どうふ

silken tofu (a quarter block)

1/4 -1/3 カップ

1/4 -1/3 cup
数滴

few drops
ブランディー

brandy

約小さじ1

about 1tsp
作り方
オーブンを180℃に温めておく
大きいボウルに粉類をすべて入れる

もう一つのボウルに豆腐と油を入れ、よく混ぜ合わせる。

豆腐と油を混ぜたものを粉類のボウルに入れ、豆乳とバニラエキストラクトも入れて混ぜる。
必要ならば豆乳を適量入れて混ぜる。

生地がスプーンから落ちるかくらいの硬さ程度ならOK。
油を塗った型に入れ、35分間程焼く。

出来上がり!
Recipe
Preheat the oven to 180 degrees.
In a large bowl sift all the dry ingredients together.

In a second bowl squish up the tofu and beat in the oil. It will look a little curdled but that's okay.

Add the tofu/oil mix to the dry ingredients along with the soymilk and vanilla extract. Fold together. Add more soy milk if necessary.

It will be a verythick mix but should drop off the spoon.Pour into a greased baking tin and bake for 35 minutes or until a toothpick inserted into the middle comes out clean.

Enjoy!