アルファベットパスタのスープ
Alphabet Pasta Soup
美味しくて簡単、そして教育的?!スープ
A tasty, effortless and educational soup!
材料
Material
玉ねぎ

onion

1個(みじん切り)

1 (diced)
にんにく (潰しておく)

garlic, crushed

1片

1clove
1個

1cube
400ml (一缶)

400ml (1can)
80g

80g
野菜(お好み、みじん切り)

vegetables of choice, diced

1カップ

1cup
大さじ2

2 Tbsp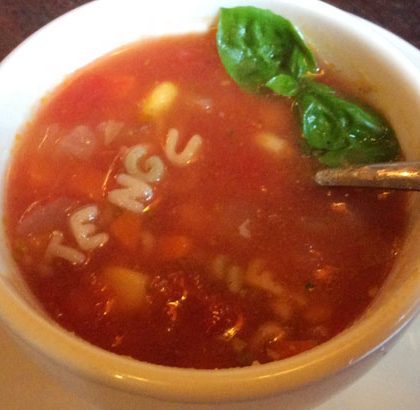 作り方
アルファベットパスタを小鍋で5分茹でる。湯を切り水ですすぐ。

オリーブオイルで玉ねぎとにんにくを弱火で炒める。

ホールトマト缶のトマトを潰して加え、さらに缶を使ってひと缶分の水を加える。野菜ブイヨンとお好みのハーブ、そしてお好みの野菜を加えて煮る。時間がなければミックスベジタブルなどでパーフェクト。

野菜が柔らかくなったらアルファベットパスタを加えてひと煮立ちさせたら出来上がり。Enjoy!
Recipe
Cook the pasta in a pan of boiling water for 5 minutes. Drain, rinse in cold water, then set aside.

Saute the onion and garlic in the olive oil over a low heat until softened.

Add the whole tomatoes, squashing into bite size pieces if preferred, then add an equal amount of water using the tomato can. Add the bouillon cube and any additional herbs if preferred. Finally add any vegetables you would like. A can of mixed veg is perfect if you're short on time.

Bring to the boil, then simmer on a low heat until the vegetables are softened and warmed through. Add the cooked pasta, mix well and enjoy!