アプリコットオートミールクッキー
Apricot Oatmeal Cookies
材料
Material
2 と 1/2 カップ

2 1/2 cups
てんさい

beet sugar

3/4 カップ

3/4 cup
2/3 カップ

2/3 cup
小さじ1

1tsp
大さじ2

2 Tbsp
小さじ1

1 tsp
小さじ1/4

1/4 tsp
1カップ(みじん切り)

1 cup, diced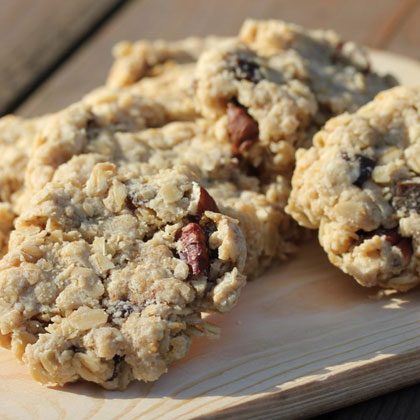 作り方
ボウルにマーガリンと砂糖を入れよくすり混ぜる。

残りの材料を全て入れよく混ぜる。まとまりにくければ大さじ1~2の水を加える。

生地を一口大に丸めてからベーキングシートの上にのせる。*崩れやすい生地なので、少しオーブンで焼いた後に平たくします。

180℃で予熱したオーブンで10分焼く。オーブンからいったん取り出し、スプーンの背で平たく潰す。さらに5分、色づくまで焼いたら取り出して天板の上で冷ます。カリッとさせたければ、オーブン庫内でゆっくり冷ます。
Recipe
Cream together margarine and sugar.

Add the rest of the ingredients and stir until well mixed. You may have to add 1 or 2 Tbsp water to help it bind.

Shape into balls and place on a baking sheet. The mixture is quite crumbly so it's easier to flatten them during cooking rather than when they first go in the oven.

Bake at 180℃ for ten minutes. Remove from the oven and flatten with the back of the spoon. Cook for another five minutes or so until they begin to turn golden. Remove from the oven and leave on the cookie sheet to cool. For crisper cookies leave them in the (switched off) oven until cool.