サクサク!チーズストロー
Cheese Straws
イギリス、アメリカのパーティでおなじみスナック。チェダーチーズをたっぷり入れてこんがり焼きました。チーズが香ばしくてついつい手が伸びてしまうおいしさ。バターと卵不使用レシピです。マスタードがほのかに効いていますがさらにスパイシーにしたかったら、ブラックペッパー、カイエンペッパーをちょこっと加えてもいいです。
アリサンの英国人スタッフ、ヘザーがイギリスのパン屋さんでいつも買って食べていた大好物とのこと。今はveganで食べられなくて残念そう!いつかveganで作ってあげたい…..おいしいveganレシピお持ちでしたら教えてください!
材料(15cmのスティック20本くらい)
Material(15cmのスティック20本くらい)
150g

150g
大さじ 1

1 Tbsp
小さじ 1

1 tsp
ひとつまみ

a pinch
50g

50g
大さじ3-4

3-4 Tbsp
小さじ1

1 tsp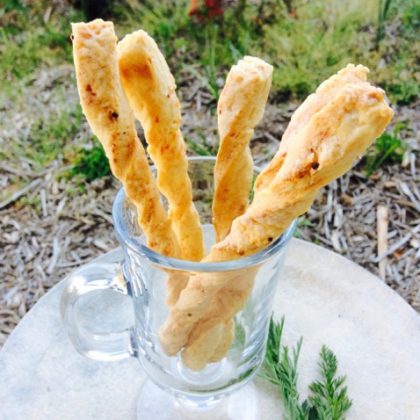 作り方
オーブンを180℃に予熱する。

Aの材料を泡立て器でよく混ぜ合わせた後、カノーラオイルを加えて泡立て器 or 箸 or 手でそぼろ状になるまですり混ぜる。

Bの材料を混ぜ合わせ、Aに加えてさっくり混ぜて生地をひとまとめにする。まとまりにくければソイミルクを少し足す。

生地を2-4mmくらいにのばし、お好みのサイズに切り、ねじる。写真では1X15cmくらいにカットしました。チーズが入っているのでくずれやすい生地です。ねじりにくければねじらなくてもOK!

180℃でこんがりと色づくまで10-15分程度焼く。
Recipe
Heat oven to 180℃.

Mix together A. Rub in the canola oil.

Mix together B ingredients. Add B to A and mix to form a soft dough.

Roll out the dough into a rectangle of 2-4mm thickness. Cut long strips and twist (or leave them straight if you prefer!)

Bake for 10-15 min at 180℃, until golden brown.