バナナチーズケーキ
Banana Cheese Cake
阿里山Cafeの定番、バナナチーズケーキはおいしくてファンも多いスイーツ。今回は卵、生クリーム不使用レシピにアレンジしてみました。クリームチーズは使っていますのでVeganではありませんが、豆乳ヨーグルトでコクがあるけどさわやかな仕上がりでおいしい。Organic Valley のオーガニッククリームチーズはとってもおいしいのでぜひ味わっていただきたい!
*ヨーグルトの酸味でレモン果汁は入れても入れなくてもOK。
*卵を入れない代わりにコーンスターチが多めです。小麦粉でもいいですが、コーンスターチの方が口どけがずっと良いのでおすすめです。
材料
Material
226g (1 箱)

226g
砂糖

Sugar

80g

80g
豆乳ヨーグルト

Soy yoghurt

1/2 カップ

1/2 cup
バナナ(フォークなどでつぶしておく)

Banana

1本

1
大さじ 1

1 Tbsp
大さじ3

3 Tbsp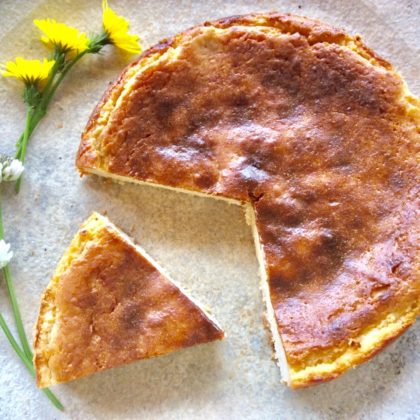 作り方
オーブンを180℃に予熱しておく。

ボウルにクリームチーズを入れ湯煎にかけ、砂糖を加えて泡立て器でよく混ぜる。

残りの材料を全て加えてなめらかになるまで混ぜたら、型に流し入れる。

180℃のオーブンで45-50分焼く。竹串をさして生地がつかなければOK。粗熱が取れたら冷蔵庫で冷やす。
Recipe
Preheat the oven to 180℃

Warm the cream cheese in a bowl over a pan of hot water until softened. Add the sugar and beat until creamy.

Add the remaining ingredients and mix until smooth. Pour into a loaf tin.

Bake at 180℃ for 45-50 minutes. It is ready when a toothpick pushed into the center comes out clean. Move to the fridge once the tin is cool.