ハイビスカスシロップで簡単!夏ドリンク
Easy Hibiscus Syrup
ハイビスカスは鮮やかな赤い色&酸味がしっかりあって、ホットもおいしいけれど、冷たいドリンクが夏にぴったり!そのままでもおいしいですが、ハイビスカスシロップをつくっておけば、カクテルドリンクもすぐできてパーティにも便利ですよ。
Hibiscus has a beautiful pink colour and sharp flavour and is popular in both hot and cold drinks. It tastes great on it's own but you can also make hibiscus syrup for cocktails or to add to sparkling water for a summer pick me up.
材料
Material
1 袋 (25g)

1 pack (25g)
1カップ

1 cup
水

Water

1カップ

1 cup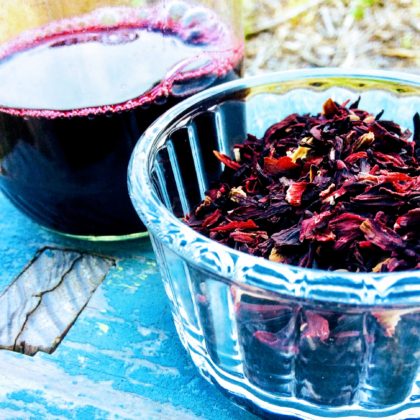 作り方
鍋に材料を全て入れて火にかけ、沸騰して砂糖がよく溶けたら、フードジャーや保温できる水筒などに移して30分ほど煮出す。冷蔵庫で1ヶ月くらい保存できます。

ざるで漉して花びらを取り除く。

*花びらも食べられますので、このままジャムのように使ってください。

【おすすめのノンアルコールドリンク】

(ハイビスカスシロップはお好みの濃度に水や炭酸で割っておく)

*ハイビスカスシロップ+オレンジジュース(写真)

*ハイビスカスシロップ+アイスティ

*ハイビスカスシロップ+豆乳ヨーグルトラッシー(写真)*ピンク色がかわいい!

その他、ゼリーやプディングのデコレーションに使ってもOK!
Recipe
Place all the ingredients in a small pan over a low heat and stir until sugar is dissolved. Move the syrup to a clean glass bottling jar and boil in a water bath for a further 30 minutes. The syrup will keep in the fridge for up to a month.

Strain out the hibiscus petals before use. You can eat the petals too; they can be used like jam or to decorate cakes.

Here are some of our non-alcoholic recommendations:

(You can dilute hibiscus syrup with fizzy water in any of these drinks)

*Hibiscus syrup + Orange juice (pictured)

*Hibiscus syrup + Iced Tea

* Hibiscus syrup + Soy Yoghurt Lassi (pictured) – we love the pink colour!