チーズ風味のアーモンドクラッカー
'Cheesy' Almond Crackers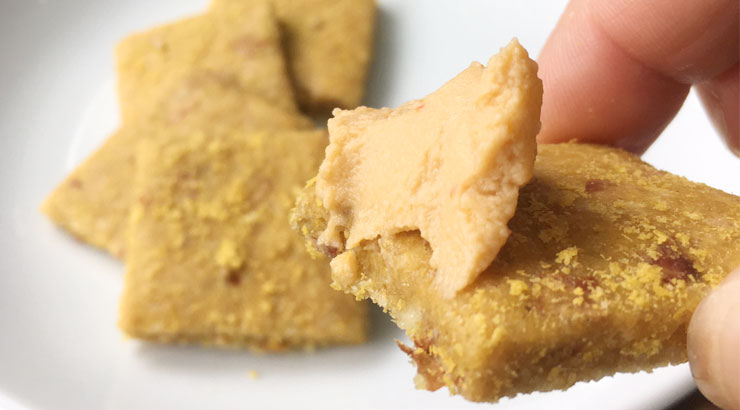 材料
Material
1 と 1/2 カップ

1 1/2 cp
1/4カップとトッピング用に少々

1/4 cp + extra for topping
砂糖

sugar

小さじ 1

1 tsp
1/4 カップ

1/4 cp
小さじ 1/2

1/2 tsp
1/4 カップ

1/4 cp
水

water

1/2 カップ

1/2 cp
白ごま

sesame seeds

少々(トッピング用)

for topping
作り方
材料をすべてボウルに入れ、全てを混ぜる。

ベーキングペーパーの上で生地をできるだけ薄く伸ばし、カードなどで切り目を入れる。ごまとニュートリショナルイーストを上から散らして、天板にそのまま載せる。

230℃に予熱したオーブンで黄金色になるまで焦げないように注意しながら15分焼く。焼きあがったらドアを閉めたまま冷ます。これでカリカリになります。完全に冷めたら切り目に沿って割る。
Recipe
Place all ingredients into a bowl and mix into a dough.

Roll out the dough, directly onto baking parchment, as thinly as you can. Mark out your cracker shapes, sprinkle on sesame seeds and some extra nutritional yeast, then slide the parchment paper onto a baking sheet.

Bake at 230 ℃ for 15 minutes, making sure they don't burn. Once golden brown, turn off the oven and leave the crackers inside with the door shut until the oven is cool (this will give you harder crackers). Snap your crackers into their final shapes and store in an airtight tin.