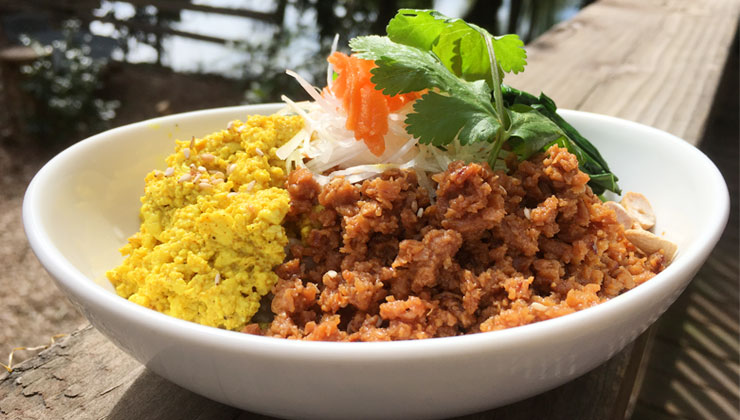 甘辛く味付けしたそぼろとガーリックが香る豆腐スクランブルエッグをぜひお楽しみください*
材料
Material
1 パック

1 pack
A:にんにく

A:garlic

1片、すりおろす

1 clove、crushed
A:生姜

A:ginger

2片、すりおろす

2 thumb size pieces, grated
大さじ3

3 Tbsp
大さじ1

1Tbsp
大さじ3

3 Tbsp
お好みで

to taste
お好みで

to taste
B:木綿豆腐

firm tofu

200g

200g
大さじ1

1 Tbsp
B:ガーリックパウダー

B:garlic powder

小さじ2

2 tsp
お好みで

to taste
お好みで 

to taste
作り方
ビーガンそぼろを作る。フライパンにオムニミート、Aを加えて中火で水分が飛んでパラっとしてくるまで炒める。

豆腐スクランブルエッグを作る。豆腐をしっかり水切りして、フライパンで崩しながら空炒りする。Bを加えてよく混ぜスクランブルエッグのようになるまで煎る。

どんぶり等にご飯をよそったら、そぼろ、豆腐スクランブルエッグを盛る。お好みの野菜、ナッツやシードを加えて彩よいどんぶりにするのがおすすめです。
Recipe
Add OmniMeat to a frying pan and begin to heat. Add all A ingredients and fry on a medium heat until the liquid is dissolved and you have a dry soboro.

Drain the tofu well. Break into small pieces in a frying pan and heat. Add all B ingredients and stir well to form a scrambled-egg type texture.

Fill a dish with rice and top with soboro, tofu and any nuts and veggies you like for a three colour veggie soboro donburi.