Vegan Shortbread / ヴィーガン ショートブレッド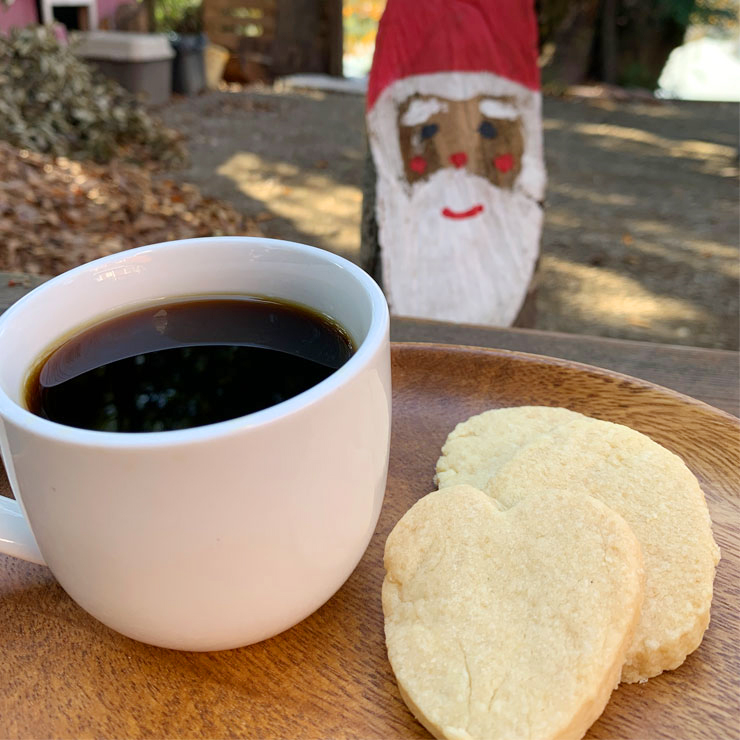 バターの風味がきいた食感の良いショートブレッド。ちょっぴり特別なおやつや、クリスマスシーズンにぜひ作ってみてください!
Crisp, buttery cookies. A special treat, perfect for Christmas stars!
材料(Makes 8 cookies)
Material(Makes 8 cookies)
100g

100g
てんさい糖

beet sugar

1/4 カップ

1/4 cup
1 カップ

1 cup
小さじ1/4

1/4 tsp
作り方
小麦粉、てんさい糖、食塩を大きめのボウルに入れて混ぜます。

有機ブロックを小さく刻み、①のボウルの中に入れて、指先で潰しながら混ぜます。初めのうちは、ポロポロとパン粉のような状態になりますが、手のひらで圧をかけるように押しつけて一つにまとめます。(途中、水などを入れたくなってしまうかもしれませんが、有機ブロックが指の熱で溶けてきたら少しずつまとまってきますので、心配ありません。水を入れてしまうとサクサクになりません!)

もし、全然まとまってこない場合は、ほんの少しだけ有機ブロックを足してみてください。

厚さが1cmになるまで麺棒で伸ばし、クッキー型などで好きな形に切り抜きます。お好みで、砂糖(分量外)を散らし、ベーキングペーパーの上に並べて、冷蔵庫で15〜30分程度冷やします。生地が温かすぎると、オーブンに入れた際に形が崩れてしまいます。

150℃に予熱したオーブンにショートブレッドを入れ、少し焼き色がつくまで45分程度焼きます。焼き上がったら、オーブンから取り出して冷まし、粗熱が取れたら網の上で冷まします。

もしも、カリッと仕上げたい場合には焼き上がったあとすぐにオーブンから出さず、30分程度置いてから取り出してください。
Recipe
Mix the flour, sugar and salt in a large bowl.

Cut the block into little pieces and add to the flour. Gently rub into the flour with your finger tips. First it will become crumbly, then slowly start to draw into a dough. Don't be tempted to add water or you won't get crisp cookies. If it really won't make a dough try adding a tiny bit more softened block / Naturli spreadable / oil.

Roll out the dough to around 1cm thick and cut into shapes. You can sprinkle a little sugar on top if you like.  Arrange on a baking sheet and place back in the fridge for 15〜30 minutes. The biscuits don't keep their shape as well if the dough is warm when it goes into the oven.

Heat the oven to 150℃ and bake for 45 minutes or until the biscuits start to brown. For extra crisp cookies leave in the oven after baking for at least 30 minutes or until cool.