グレートノーザンビーンズとムング豆で作ったあんこ
Great northern beans & Mung beans paste.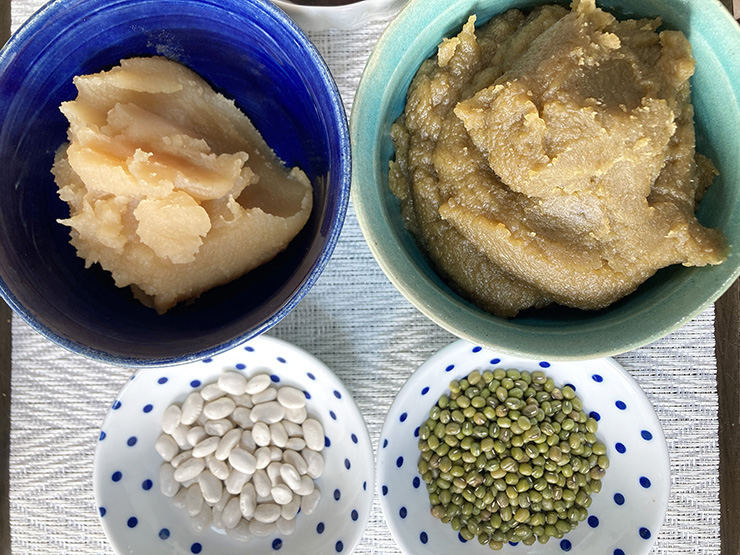 グレートノーザンビーンズとムング豆であんこを作ってみました。
甜菜糖を使用したので、白餡、緑餡とまではいきませんでしたが、小豆とはまた違った味わいが楽しめます。
Made Anko with Great Northern Beans and Mung Beans.
We used beet sugar, so we couldn't go as far as white or green bean paste, but you can enjoy a different flavour from red beans.
材料
Material
200g(出来上がりは写真の量)

200g(the amount shown in the photo.)
200g(写真は半分の量で作っています)

200g(The photo shows a half batch.)
180g

180g
ひとつまみ

pinch
水

water

40ml

40ml
作り方
下ゆでをします。鍋に乾燥豆を入れて水をたっぷり入れて中火にかけ沸騰させます。

5分間程度煮たら火を止めザルにあげて流水で洗い水気を切ります。

お豆を鍋に戻し、水をかぶるくらい入れて強火にかけます。沸騰したら中火にして蓋をし、差し水をしながら約40分程度(お豆によって調節してください)柔らかくなるまで加熱します。

ボウルに裏ごし器を重ね、先ほど煮たお豆を入れてゴムベラでこし、皮を除きます。(皮感を残したい場合にはフードプロセッサーで攪拌してもできます。)

こしたものをさらしで包みしっかりと水気を絞ります。

鍋にお水と甜菜糖を入れ中火にかけ、沸騰したら絞ったお豆を入れ混ぜながら加熱します。

中火で水分がなくなりお好みの柔らかさまで練ったら塩を入れ混ぜ火を止めます。

完成です。
Recipe
Pre-boil the beans. Put the dried beans in a pot with plenty of water and bring to a boil over medium heat.

After boiling for about 5 minutes, turn off the heat and drain in a colander under running water.

Put the beans back into the pot, cover with water, and place over high heat. When the water comes to a boil, reduce the heat to medium, cover with a lid, and cook, adding water as needed, until tender, about 40 minutes (depending on the beans).

Place a colander on top of a bowl, add the cooked beans, and strain with a rubber spatula to remove the skin. (If you want to keep the skin texture, you can use a food processor.)

Wrap it in a cloth and squeeze out all the water.

Place the water and beet sugar in a pot over medium heat and bring to a boil, then add the strained beans and heat while stirring.

When the water has evaporated and the mixture is as soft as you like, add salt and turn off the heat.

Then it's done!