新商品!
有機ベジタリアンマッシュルームオイスターソース&ガーリックチリソース
Organic Vegetarian Mushroom Oyster Sauce&Garlic Chili Sauce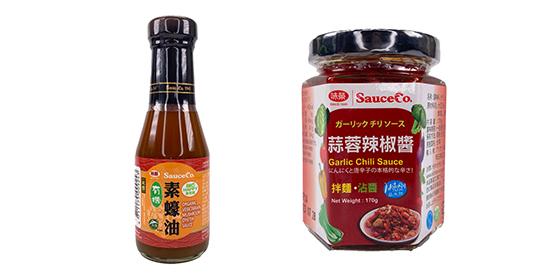 台湾シリーズに新商品が登場しました。
お待たせしました、ベジタリアンだって使いたい、オイスターソース♪
有機ベジタリアンマッシュルームオイスターソースはなんと有機JASのお墨付き、無添加、360日間じっくり発酵させて作られた製品です。
お好きな具材をこれで炒めるだけで満足の一品に。
時短レシピにも一役買います。
そしてスパイシー好きなあなたに朗報なのがガーリックチリソース。
台湾産の厳選された新鮮な唐辛子を、加工しすぎずに本来の風味を生かして作られた製品。
存在感たっぷりのニンニクとの相性が抜群です。
炒めものだけでなく、餃子のタレやラーメンにひと匙入れてみたり、もちもちの麺に絡めて食べてもとっても美味しいです。
有機ベジタリアンマッシュルームオイスターソースとガーリックチリソースはこちらから♪
We are pleased to introduce a new product to our Taiwan series.
The Organic Vegetarian Mushroom Oyster Sauce is JAS organic!
Just fry your favourite ingredients with it and you will have a satisfying dish.
It's also a quick recipe.
And good news for you spicy lovers is the Garlic Chilli Sauce.
This product is made from selected fresh chillies from Taiwan, which are not over-processed to bring out their natural flavour.
This chilli sauce is a perfect match for the presence of garlic.
Not just for stir-fries, it is also very tasty as a spoonful in ramen noodles or sauce for dumplings, or tossed with sticky noodles.
You can buy Organic Vegetarian Mushroom sauce and Garlic chili sauce from here!